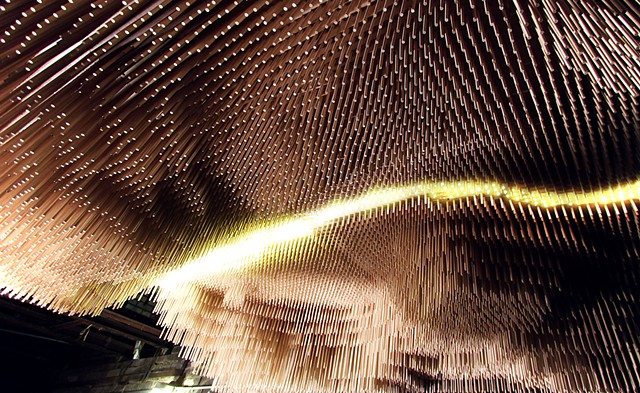 Mark Francis is an architectural designer and installation artist based in Toronto.
Mark's creative architectural practice is primarily based on the concepts of informal, participatory, and incremental urbansim. His architectural and design explorations have focused on informal urban typologies in Latin America and Asia, as well as their applications toward small-scale urban interventions at home in Canada. At it's core, this perspective on the built environment strives to bring about more autonomy in the making of personal and public spaces in the city.
Viewing art and architectural practice as part of the same creative spectrum, Mark's work also includes drawing, photography and sculpture focusing on spatial, temporal and existential themes. Aesthetic and academic inspiration can be found in the likes of Lebbeus Woods, Constant Nieuwenhuys, and Elemental.
Mark earned his Master of Architecture from the University of British Columbia in 2014, completed a BFA in visual arts at York University in 2010, and is currently working as a designer in Toronto.
Mark is currently Senior Multidisciplinary Designer at Stacklab, co-founder of design collective InterSpatial with architect Natalia Bakaeva, and is the former installation director for Philip Beesley Architect Inc and the Living Architecture Systems Group. He has worked on laneway-centered initiatives with both the |Laneway Project| and Lanescape
Notable installations and exhibitions include: The Gaslight District in Cambridge, Ontario 2020 (PBAI), Futurium Museum, Berlin 2019 (PBAI), Daejeon Biennale 2018 (PBAI), The Royal Ontario Museum 2018 (PBAI), Indiana University (PBAI), DX EDIT 2017 (PBAI), The Laneway Summit (2016), Nuit Blanche (2016), the Evergreen Brick Works (2016), The Stop's Night market (2015), Gallery 221a Vancouver (2013), Paul Petro (2010), Gallery 1313 (2009), The Sleeping Giant Gallery(2009). Reviews have been featured in: Canadian Architect, Arch Daily, Azure Magazine, Design Boom, Urban Toronto, Broken Pencil Magazine, BlogTo, Now Magazine, and the Toronto Star.